Description
---
CIELO dog collar, a tribute to the sky and heavens.
The D-ring and buckle are ultra-strong, brass-finished steel. The collar features a padded leather interior for the comfort of your dog and a special ring for the ID tag.
*Due to its handwoven nature, the collar you receive may differ slightly in color and design from the collar pictured.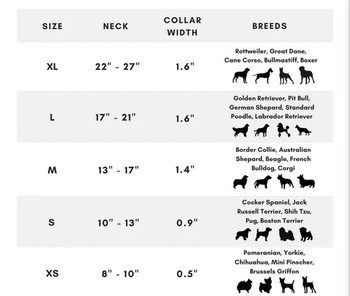 Materials: Vegetable-tanned leather, Nylon thread, Brass-finished steel hardware 
Technique: Trenzado a Mano (Maya hand weaving) 
Origin: San Juan Chamula, Chiapas, Mexico
Care Instructions: If the leather is soiled, it can be wiped with a soft, damp cloth using a lather of any mild soap with lukewarm water. Avoid contact with salt or chlorine water. For best results, use leather conditioner occasionally. The textile can be cleaned with a brush, water, and mild soap.
Flown all the way from Mexico to the UK, we can introduce the incredible AMOR collars.
AMOR artisans are extraordinarily talented, low-income women living in Chiapas, Mexico. Our project aims to address socioeconomic problems facing artisan communities. For the majority of artisans, work is only seasonal and dependent on tourism. This results in the loss of culturally significant techniques, great personal risk for each artisan, and no way to improve their quality of life or economic situation.
The AMOR collars use environmentally friendly materials such as vegetable-tanned leather and biodegradable packaging as well. Most of the designs are truly one-of-a-kind being made by the artisan ladies, no one will have the exact same collar as you! We hope you can join the supportive AMOR and Totally Pet Products community and support a local artist too.